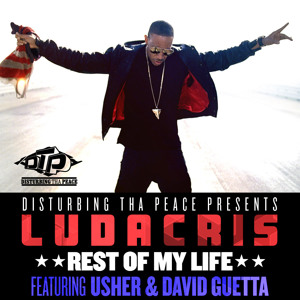 In terms of producing watered down radio chart topping hits David Guetta has been pretty quiet lately. Especially compared to last year when he dominated the pop house scene with his album Nothing But The Beat, in which every track from it became an instant pop hit. After being bumped down from his disputable number one spot on DJ Mag's top 100 he's back with another made for radio track.
On Rest Of My Life he's working with Ludacris and Usher, who he's successfully collaborated with in the past. The vocals provided by Usher are enjoyable and I'm often a fan of his voice on Electro tracks. The rap provided by Ludacris is mediocre at best and sounds really out of place on the track. In terms of the beat, Guetta didn't go out of his comfort zone considering it's basic and pretty much adheres to the typical house track formula. The drop on the other hand is awesome, but that might be because it's kind of the same exact drop from Afrojack & Shermanology's Can't Stop Me Now.
I'm never one of those people who constantly complain "Oh that drop sounds like this track" or "They stole that intro from this track", but there's no denying it's blatantly the same
drop. With that said, it baffles me how he can even release this without a second thought of the buzz it's going to create by both other DJ's and fans. Like it or not he's one of the major DJ's in the scene today. He is held in high esteem not just by up and coming DJ's but by even the more established ones. I can't fathom how he can put his reputation on the line by releasing a track where he duplicates an already popular song's drop.
What makes it even worse is that this track will probably still become a hit on the pop charts and people will buy it blindly. I understand that this business can get very cut throat but shouldn't there be some code of ethics amongst DJ's? I've included both tracks for comparison so you can judge for yourself.
Ludacris "Rest Of My Life" feat. Usher & David Guetta by Ludacris